On this years home to-do list, we have redo our kitchen cabinets. The cabinets do not look that bad from faraway but believe me when I say they need some help… The last paint job was not the greatest, there is paint brush marks everywhere. And the paint is chipping in some places, that does happen over time. Another thing is that the cabinets are a cream and I want a different color, white maybe… Here is our kitchen currently:
Here is some inspiration that we are loving right now. First up is all white cabinets.

source
I love the look of white cabinets but is it too much white? And I do worry about dirty little hands all over white cabinets. Would I be washing them all the time?
So how about a two-tone cabinet? White uppers and a colored base cabinet.

source
I would have never have thought navy for a base cabinet but I really like the look.
Or how about a dark gray cabinet base?
source
But then I came across these beauties…

source

source
 I am in love, I repeat in love with this look. White upper cabinets and a wood base. TO DIE FOR… Ok maybe not but it got me thinking. Could I have this look with my cabinets? Guess what, I am going to try!
But first I need to strip all my cabinets, which I am working on right now, and then I need to make them into a shaker style cabinet. I found some tutorials on how to do that, plus their before and after are pretty amazing!
First is a tutorial from Cherished Bliss:

source
 Next is from My Blessed Life: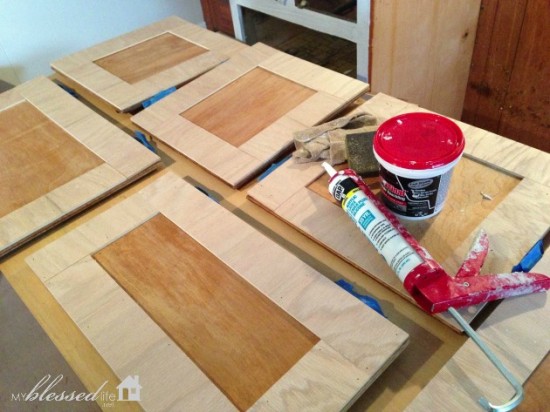 source
 And last but not least from Beautiful Matters:

source
I plan on doing things a little bit different then they all did because the base cabinets will be stained. So I can not use plywood for the trim, it will have to be real wood. And if the base cabinets do not turn out the way we want, well then I will just paint them.
Your probably thinking that's a lot of work to get the real wood but the truth is that I have to strip all the cabinets anyways to get rid of the previous paint job. So it's really not that much more work in my case. I am really hopping this will turn out the way we hope.
Anyone else wanting to redo their cabinets? And if so, what style are you in love with right now?